KC's Northern Beaches Locksmiths provides a mobile car lock out service.
Lost your key? Ignition doesn't turn?
Our mobile workshops can open your vehicle on site, cutting down inconvenience and cost of getting your vehicle towed to a dealer or to a car mechanic.
Auto and car lock out experience
Our locksmiths are trained, licensed, and insured with years of experience in providing quality service for in Manly – Pittwater – Warringah areas.
Car lockout / opening
Emergency vehicle opening
Emergency trunk opening/ car boot lockout
Extraction of broken keys
High security vehicle key duplication
New Ignition key
We are able to refer you to a specialised local automotive locksmith, if we are unable to meet your needs.
If you require assistance outside of work hours, we provided an emergency service, please all us on 0414 851 858.
Car keys are more sophisticated these days, and therefore replacement is proving to be more expensive. While it is easy to order replacement keys through your car dealership, it won't be cheap.
The cost of a single replacement key can ranges widely, depending on the make and model of your car, and the key's design. These higher costs are due to the programming and coding needed to open and start the car.
Modern car keys have an inbuilt transponder used to prevent theft. This transponder electronically communicates with the vehicle. If the transponder key isn't programmed to match with the car, then the car won't start. Most modern cars require these types of keys. If you lose your keys, not only will they need to be custom cut and programmed. Depending on the model and dealer, you may have to wait between five to ten days to collect a replacement. Our aim is to get you going the same day or the following day subject to parts being available.
Car Lock Out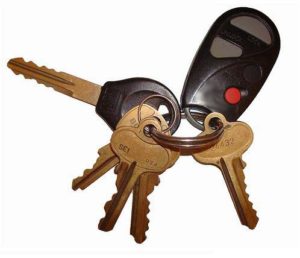 5 Ways to save money on replacement keys
The best way to save money on car lock out or replacing your car keys, is to be prepared.
Get a spare key now. Save all the stress, time and money lost in what might end up as an emergency.
So, here are tips to save money on replacement keys:
A locksmith can cut and recode most car keys, saving you time and cost getting to a dealership. In most cases locksmiths are also cheaper than the dealership.
If you are often hunting for your keys purchase a key-locator device. It will save you hours of frustration and the cost for car lock out service.
Have a spare master key. While the cost of a new car key these days is relatively high, if you lose all the keys to your car, you could be off the road for a couple of days which will cost you time and money which can be a major inconvenience. A high price to pay for losing something you carry with you every day.
If you are some one who locks your keys in your car, a potential low-cost alternative to gain access to your car is to order a basic key without the transponder. This key will do everything except start the engine and will be handy when you leave the keys in your car/go surfing/playing sports.
Record your key codes and electronic codes (if available) with your car records. This information may help reduce the cost of providing new keys if lost.
If you require assistance outside of work hours, we provided an emergency service after hours service. If you are locked out of your vehicle please all us on 0414 851 858.