Statistics show that in Australia someone is burgled just about every minute*(1).
October 20, 2011: According to the RACV, in Victoria on average, one in 71 homes is burgled each year – equating to a burglary every nineteen minutes. The NRMA suggests that one in four households (across Australia) has been burgled with the number increasing to one in every three in Capital Cities*(2).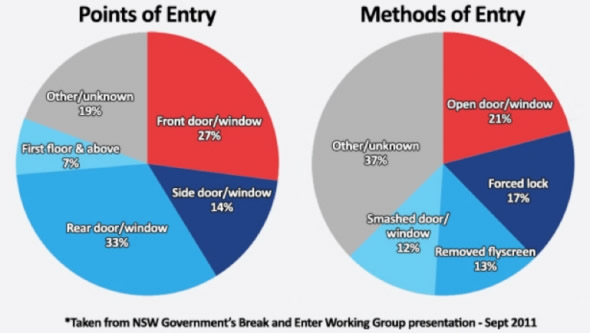 In NSW Bureau of Crime Statistics reveal only 5% of break and enter crimes are solved by the police, so the chance of recovering stolen possessions is close to zero. In ~ 30% of burglaries the occupants are home and once you've been burgled, your home is more likely to be broken into again. Thieves will often come back within 3 months, giving you time to replace all the things they stole.
Other fascinating facts and contributing factors to the incidence of burglaries include:
adjoining laneways which might offer burglars easy access or ready-made escape route
obvious display of wealth
lack of visible security measures, for example, no monitored alarm or inadequate window/door locks
a physical environment where thieves might feel they were less at risk of being caught because the street was either too quiet or too busy or the property was very secluded
one single open window is all they need. They want to get in and out fast, so they're likely to pass up a house with obvious security like a security alarm, and break into one that takes less effort
an empty house is preferred. Thieves will look out for signs people not home – an overflowing letterbox or bins out on the street when neighbours have taken theirs in
Burglars will often pick a house that looks empty and ring the doorbell in case someone is home, with a story about looking for a mate who lives in the street or some other excuse. If no one answers they'll have a quick look around for a key; if they don't find one, they'll break in.
In September 2011, the NSW Government's Break and Enter Group reported that Australia is only second behind New Zealand in incidents (break and enter) per 100,000 people of population. Their study also revealed that:
The most popular times for break and enters is Monday to Friday between 12am and 12pm (midday), burglars at their most busiest from 6am to 12pm (midday) and January the busiest month for break and enters (approx ave is 5150 incidents each January)
Points of entry – 33% enter through the rear door, 27% through the front door or window and 14% side door or window
Methods of entry – 21% of burglars opened the door or window, 17% forced the lock, 13% removed the flyscreen and 12% smashed door or window
What does this mean for you?
Everyone loves a statistic, and these are useful facts and figures to know when selling your services to potential customers.
It also might also be a good idea to create a list of preventative measures that can decrease the likelihood of being robbed to provide your customers as an added service. If you communicate regularly with your client base via email, it may be a great topic to provide information on and hopefully increase their interest in securing their home or business further.
It's an easy way to keep current clients thinking about security and keeping your business at the forefront of their security needs. As we will discuss in future editions of the MLAA e-news, it is a lot easier to retain your customer base than secure new ones.
Install an alarm
Monitored security alarms have proven to be the most effective way to combat thieves. The most effective alarms are easily seen from the street and make a loud.
Get into the habit of locking up – every time
It may take a conscious effort to begin, but it will soon become second nature to lock windows and doors every time you leave and while you're at home.
Fit keyed locks to all your windows, however small or high up
Fit double-keyed deadlocks on external doors. Deadlocks mean thieves can only leave by the way they got in, and make it harder for them to steal big items like TVs. Install patio bolts on sliding doors – a common weak spot
Get a good quality, lockable screen door to put a barrier between you and anyone who comes to the front door.
Don't leave spare keys outside
Burglars know all the hiding spots: under the front door mat, on a window ledge, beneath a plant pot or in the letterbox or meter box. Leave keys with a neighbour or friend instead. Keep your car keys in a secure and hidden place as burglars will steal a vehicle if the opportunity presents itself.
Lock your side gates
Side gates allow thieves easy access to the back of your house, away and out of sight from the street.
Lock your garden shed and garage
Not only are they full of valuable and easy-to-steal tools, but they usually contain implements that thieves can use to break into your home. Always lock doors between your house and garage and don't leave bikes or lawnmowers on the front lawn, even while you're at home
Install movement-activated sensor lights
Keep your house well lit. Trim trees and shrubs, especially those close to windows and doors that provide cover for intruders as they try to break in.
Don't advertise that you're out or away
Whether you're away for a day or two or a few weeks, try and keep your home looking as lived-in as possible.
Don't advertise your possessions
Don't leave the box of your new TV or computer outside the house. Cut boxes into pieces to recycle.
List all your valuable items
If you're unfortunate enough to be burgled, a list of all your valuables can help you identify what has been stolen. It's a good idea to photograph antiques and jewellery and always keep receipts for your possessions with your list to help with insurance claims.
Make sure your home contents insurance is up to date
Check that your home contents insurance policy is current and that you're insured for the right amount to cover the replacement cost of your contents at today's prices.
ar dapibus leo.
*(1) From statistics compiled by ABS based on figures provided by State and Territory police organisations
*(2) Research based on a survey of Australian households by Woolcott Research on behalf of NRMA insurance, October 2007